The Leadership Academy has been developed by the Centre for Democracy and Peace Building and the Institute of Irish Studies, University of Liverpool. It shares the knowledge and experience of conflict and conflict transformation in Northern Ireland and beyond, and its relation to dissent and risk in contemporary British society.
By India Fahy
On Tuesday we hosted the second of our Leadership Academy sessions, this time focused on Hate Crime and Community Policing.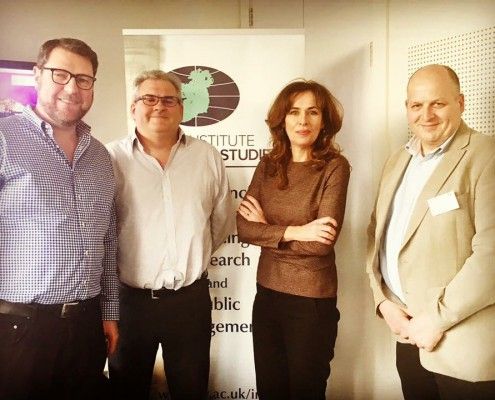 It was a pleasure to hear the insights of Assistant Chief Constable Stephen Martin, who discussed at length the importance, particularly in NI, of police building their cultural competencies and being constantly alert to the nuances of everything they say and do. This messaged was reiterated by Paul Giassani who highlighted the overlap with the PSNI and the Police Service in England and Wales and stressed that hostility exists in every society, the willingness of the state to deal with it is considered to be a key indicator of a thriving society.
One message that I took away was the notion that a business can never be successful without understanding its clients' and their needs and wants. It seems that there has been a drive within the police force to adopt a more 'client-centric' approach, seeking to understand the communities they police. ACC Martin made the point that it would be nonsensical to arrive at the house of a Catholic family in Derry/Londonderry to deal with a domestic violence issue and refer to the city as Londonderry. This is certainly a welcome development.
ACC Martin stressed that the response of police officers to hate crime is critical; until officers begin to identify with victims of hatred and truly appreciate the fear and isolation it can create, he believes that we will always be one step behind – policies and other measures will not resolve the problem. On a more somber note ACC Martin stressed that as Northern Ireland moves beyond 'The Troubles' he can't help but wonder if we are starting to displace traditional sectarian hostility with hostility based on difference by ethnicity, other religions, or sexuality.
This fear was certainly corroborated in some respects by the quantitative research study presented by Professor Peter Shirlow. Professor Shirlow provided a fascinating insight into the role of 'signals', particularly in a post-conflict society like Northern Ireland, in influencing perceptions of crime. He provided the comparison of a young man wearing a celtic or rangers shirt attacked at a bus stop, and a young man in plain clothing being attacked in the same circumstances. He stressed that because of our identification we can perceive that an attack with a 'signal' is an attack on 'us' and our community. Professor Shirlow's study on perceptions of crime surveyed 990 families in Belfast interface areas about how common they believed that sectarian and ordinary crimes are in their communities. Whilst the level of recorded sectarian crimes across the wards ranged fro 1% – 7%, perceived levels of sectarian crime ranged from 23% to 55%. The study also revealed that perceived sectarian crime was the biggest indicator of a negative attitude towards the police.
A personal highlight of this week's leadership academy was the attendance by two members of the police force of Somalia. Somalia is now emerging from conflict after 27 years and the challenge that the police force are facing is immense, in particular challenges from extremist organisations are proving extremely difficult to assuage. The two officers attended the Leadership Academy hoping to gain an understanding of how they can move forward and gain the confidence of their community. Both ACC Martin and Paul Giassani provided practical and innovative advice based on their experience of building relationships and rebuilding some semblance of unity.
This is just a snippet of the lessons that emerged from this Leadership Academy session. Deirdre, Stephen, Peter and Paul spoke eloquently about their own experience and advice moving forward.  It is evident that remnants of the problems of the past still linger in Northern Ireland, and that we are likely to face a host of new issues. What matters going forward is that we have clear and concise strategies moving forward which are executed as sensitively as possible.
The next Leadership Academy on 'Social Media as a Driver of Conflict/Conflict Transformation'  will take place at the University of Liverpool's London Campus on Wednesday 23rd March 2016 at 2.30pm.
University of Liverpool's London Campus on Tuesday 23rd February 2016 at 2.30pm
Sign up here: www.getinvited.to/cdpb/leadership/
https://democracyandpeace.org/wp-content/uploads/2016/02/IMG_4035.jpg
720
960
admin
https://democracyandpeace.org/wp-content/uploads/2018/08/logoDemocracy-1.png
admin
2016-02-24 17:34:20
2022-06-29 08:11:29
Leadership Academy: Hate Crime and Community Policing