TEDxStormont organised by the Centre for Democracy and Peace Building is joining forces with The Executive Office Urban Villages Initiative, Ulster University and global PR and content agency Smarts, to provide a unique personal development opportunity to young people (16 – 24 years old) living in one of the Urban Villages areas.
Talk like TED
Would you like to deliver a persuasive and memorable TED style presentation?
Master the art of storytelling?
Get audience behind your ideas?
Accomplish the art of Influencing and persuading major stakeholders?
Share your unique idea on TEDxStormont stage on 31st August?
Apply to be part of Talk like TED programme by Wednesday, 19 June at: https://www.surveymonkey.co.uk/r/Y2FVD9V
Workshops will be delivered by expert facilitators Sarah Travers and Camilla Long at Ulster University Belfast campus on:
• 27 June
• 4 July
• 11 July
• 18 July
• 25 July
On Thursday, 8 August you will take to stage at the graduation event in Parliament Buildings, Stormont to share your idea. Afterwards the expert panel will select one speaker to deliver their TEDx talk during the main TEDxStormont event on 31 August.
This programme is being supported by the Urban Villages Initiative and your challenge will be to create your ideas, your story around one of the initiatives three key aims: Fostering Positive Community Identity; Building Community Capacity and Improving the Physical Environment. This can be applied to the place where you live and the people that surround you or the wider implications for the city or the world, give us your big ideas!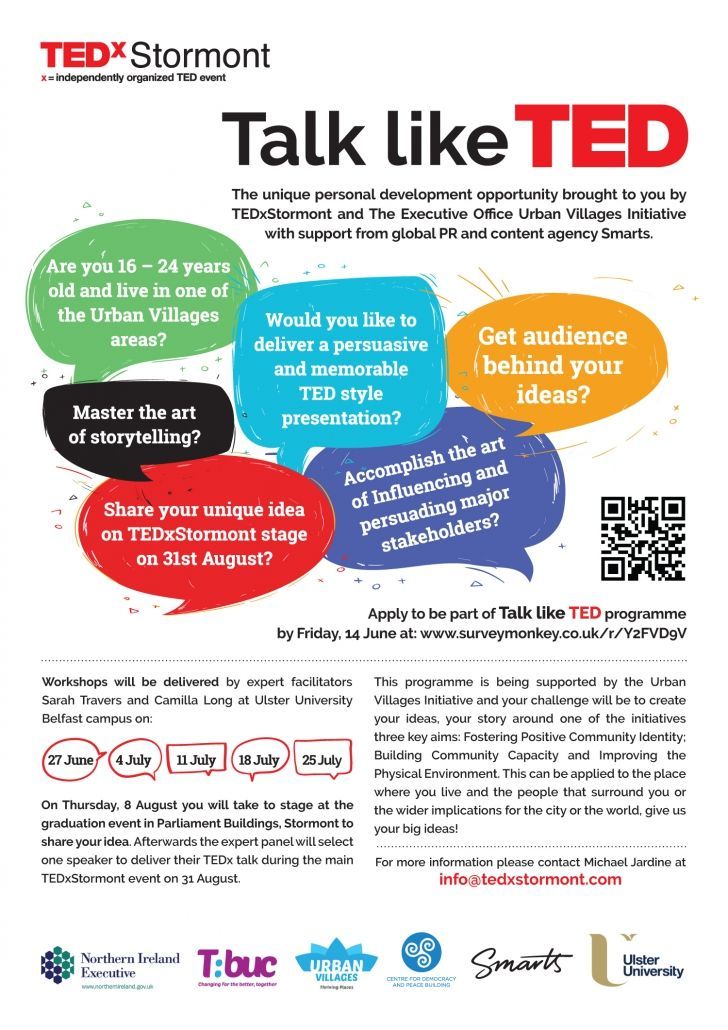 About TED and TEDxStormont
TED is an annual event that brings together the world's leading thinkers and doers to share ideas that matter in any discipline — technology, entertainment, design, science, humanities, business, development. The talks at the conference, called TED Talks, are then made available to a global audience to watch for free on TED.com.
In the spirit of "ideas worth spreading," TED has created TEDx, a programme of local, self-organised events that bring people together to share a TED-like experience.
TEDxStormont event will take place on Saturday, 31 August 2019 in the Great Hall, Parliament Buildings, Stormont. We are bringing together a range of exciting speakers to inspire our audiences, as we believe passionately in the power of ideas to change attitudes, lives and ultimately the world.
The overall theme of TEDxStormont 2019 is "Imagine" – we will look forward and imagine the kind of future we could have together as a society in Northern Ireland and beyond. For more information please visit https://www.tedxstormont.com
https://democracyandpeace.org/wp-content/uploads/2019/06/TEDx-9216.jpg
1669
2500
Eva Grosman
https://democracyandpeace.org/wp-content/uploads/2018/08/logoDemocracy-1.png
Eva Grosman
2019-06-03 21:18:51
2022-06-29 08:10:30
Talk like TED - Urban Villages Initiative for Young People