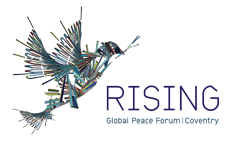 RISING, a new global peace forum in Coventry, UK, is launched on Monday 17 August, with a specially filmed message to the world from Archbishop Desmond Tutu. Speakers confirmed for the first annual event include Rt Hon Gordon Brown, Terry Waite CBE, and Cardinal Onaiyekan, Roman Catholic Cardinal Archbishop of Abuja, Nigeria.
With the theme 'A Hard Road to Hope', the inaugural RISING 15 will see global statesmen, business leaders, peace advocates and members of the public meet in the city from 11 – 13 November 2015. Together they will push forward new ways of thinking about peace and conflict in our turbulent world. Tickets go on sale shortly and it expected that up to 400 people from around the world will attend.
RISING is a partnership between Coventry City Council, Coventry University and Coventry Cathedral. Coinciding with Armistice Day and the 75th anniversary of the bombing of Coventry on 14 November 1940, it will take place in buildings surrounding the shattered ruins of the city's medieval cathedral. Preserved as a reminder of the trauma caused by World War Two, this iconic landmark has become a potent symbol for peace and reconciliation around the world.
Speakers at RISING 15 will include:
Rt Hon Gordon Brown, former Prime Minister and UN special envoy for Global Education.
Lord John Alderdice, former Speaker of the Northern Ireland Assembly and leader of the Alliance Party of Northern Ireland, now a Liberal Democrat in the House of Lords where he chairs Parliament's All Party Group on Conflict Issues.
Terry Waite CBE, humanitarian, author and former aide of the Archbishop of Canterbury, who was kidnapped and held hostage in Lebanon for 1,763 days.
Archbishop Josiah Idowu-Fearon, Secretary General of the Anglican Communion, one of the world's biggest Christian denominations with 85 million members in over 165 countries.
Cardinal Onaiyekan, Roman Catholic Cardinal Archbishop of Abuja, Nigeria.
Michael Binyon OBE, Veteran foreign correspondent and leader writer for The Times.
Mary Harper, the BBC World Service's Africa Editor.
Sam Lee, Director of Send in the Clowns, a documentary film exploring the impact of prolonged aid in Haiti as it follows a group of idealistic volunteer performers from Clowns without Borders.
Iman Icar, Deputy Mayor of Mogadishu, capital of Somalia and one of the world's most divided and volatile cities.
Emma Sky OBE, who served in Iraq longer than any other senior military or diplomatic figure, first as the Coalition's Governorate Coordinator for Kirkuk province and later as an adviser to the US Commanding General.
Richard Smith, a peacebuilder and anti-apartheid activist working with one of Africa's leading peacebuilding organisations, the Action Support Centre.
Karam Hilly, an activist and community organiser from Syria working for peaceful demonstration and change. Karam was detained by the Assad regime in 2014 and fled to Turkey. He still works in Syria to keep hope alive, but at great personal risk.
Colonel Dr Brendan O'Shea, a Commandant in the Irish Defence Forces who has worked on international peace support operations in the Middle East, the Balkans and West Africa.
For more information please visit www.rising.org
https://democracyandpeace.org/wp-content/uploads/2015/08/rising_15_logo_250.png
141
233
Eva Grosman
https://democracyandpeace.org/wp-content/uploads/2018/08/logoDemocracy-1.png
Eva Grosman
2015-08-18 09:12:12
2022-06-29 08:14:18
Lord Alderdice to speak at RISING - a new global peace forum