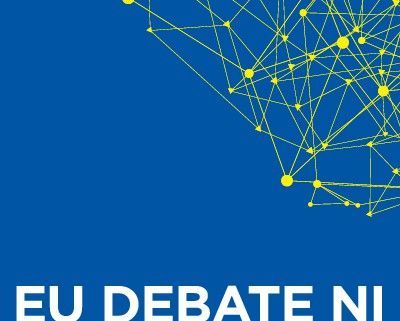 Following the decision by the UK electorate to Leave the EU, The Centre for Democracy & Peace Building (CDPB) are to continue their 'EU Debate NI' programme thanks to support from the Joseph Rowntree Charitable Trust.
EU Debate NI took a neutral position to stimulate and inform debate in Northern Ireland on the consequences of remaining in or leaving the EU.
The EU Debate NI Briefing Paper set out the issues and the questions to be considered in respect of the referendum in Northern Ireland, while the outreach events and online toolkit engaged thousands of people in understanding the different issues and arguments in the Referendum.
Lord Alderdice, CDPB Chairman speaking in the House of Lords said:
"We developed a public conversation which we called EU Debate NI. I pay tribute to Eva Grosman and Conor Houston from the Centre for Democracy and Peace Building that I run in Belfast. This became the major initiative in Northern Ireland: a public conversation, not campaigning for one side or the other, but enabling people from all sides and with all views to come together in public and engage on the legal, constitutional, educational, agricultural, industrial, economic—all aspects of the question.  It meant that in Northern Ireland the debate was able to be conducted without some of the rancour and vitriol that there was in other parts of the UK."
EU Debate NI will create the space for informed debate through events, online engagement and community outreach across NI. There will be a new Briefing Paper produced in conjunction with academics from Queen's University Belfast setting out a roadmap and summary report of options for Northern Ireland.  EU Debate NI will make this accessible to communities and groups across Northern Ireland and promote a national conversation about how Northern Ireland can best protect its unique and special interests post-referendum.
EU Debate NI looks forward to engaging all across our society in this important discussion – follow us on Twitter @EUDebateNI or visit our website at www.eudebateni.org
https://democracyandpeace.org/wp-content/uploads/2016/07/twitter-profile.jpg
400
400
Eva Grosman
https://democracyandpeace.org/wp-content/uploads/2018/08/logoDemocracy-1.png
Eva Grosman
2016-07-15 08:43:02
2022-06-29 08:11:29
EU Debate NI: Where NI goes next?