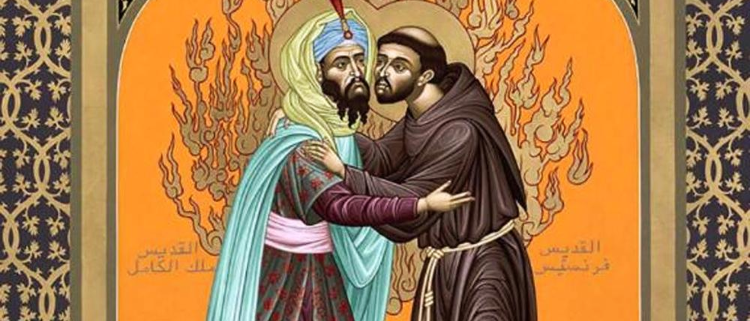 By Natasha Oviedo
While studying historical and contemporary conflicts, it is not uncommon for religion to be brought up as an inevitable source of division and oppression. This reductive perception of the role of religion in conflict and oppression was challenged through a discussion moderated by Lord Alderdice on the potential religion holds as a form of advocacy and community building. As a part of the Rethinking Solidarity webinar series, Lord Alderdice engaged Dr. Dariusz Karlowicz, Dr. Nazila Ghanea, Daniel Greenberg, and Fr Jaroslaw Kupczak OP in a dialogue that confronted the deep ties between solidarity and faith.
Lord Alderdice began the conversation with a reflection on Pope Francis's recent encyclical Fratelli Tutti and its definition of solidarity grounded in "thinking and acting in terms of community" and a "responsibility for the fragility of others." The encyclical stretches this conception of solidarity outside of the Catholic community through a re-telling of St. Francis of Assisi's arduous trip to Egypt during the crusades where he met the Ayyubid sultan Al-Kamil. The process of interfaith diplomacy between a Catholic and Islamic leader during a contentious and violent period in history exemplifies how value for human rights and willingness to engage in dialogue transcends organized religion.
At the core of this dialogue reverberated a common theme: the manners in which values and ethics, including love, mercy, and community, form the foundation of grander acts of solidarity.
Fr Jaroslaw Kupczak framed solidarity as an ethical phenomenon or experience. Fr Kupczak's perception of solidarity as an experience based on ethics enables interfaith solidarity despite the exclusivity of organized religions due to the ability for ethics to transcend religious and cultural organizations. Dr. Ghanea stressed the importance of defending and embracing spiritual values, which I interpret as the ethical values representing human decency that transcend specific organized faiths. Spiritual values bring meaning and life to a diverse array of individuals, and are imperative to fostering faith-based and spiritual solidarity.
Additionally, Dr. Ghanea argued that religious pluralism is an expression of the personal and historical human search for meaning. Even the decision to not search for meaning, or deny any meaning, is an important act of human agency within one's personal journey. Thus, upholding the right for religious freedom and plurality is ultimately about protecting the "deepest human needs," as articulated by Dr. Karlowicz, and the right to a fulfilling and meaningful life.
Humanity, Greenberg explained, is the common denominator that brings different faiths together. Human vulnerability and appreciation for the preciousness of human life are found within each of us regardless of religious associations, traditions, and identities.
And what is at the root of solidarity, empathy, mercy, appreciation for human life if not love? In theology, the Lord's mercy represents solidarity with those who are weak, yearning, in need, and human. Dr. Karlowicz brings up love, "a strange word in politics this day," claiming that solidarity is not a new or better form of social policy but rather about love. In Dr. Ghanea's legal perspective, she compares human rights law to a vehicle and spiritual values as the fuel. Solidarity is not derived from policy, but rather human rights-based policy and law are outcomes of an energetic commitment towards love and humanity.
Lastly, dialectic communication and peace-based rhetoric construct the framework from which solidarity can be conceived between divided communities. St. Francis of Assisi and the sultan of Egypt Al-Kamil's diplomatic gestures and solidarity towards one another and humanity were born from committed dialogue.
Fr Kupczak recounted the pilgrimage of Pope John Paul II to Poland during a communist reign suppressive of solidarity. While in Poland, Fr Kupczak described the "new language of peace" spoken by Pope John Paul II. The transformative power of dialogue and rhetoric rooted in peace led to a new sense of tolerance that created the groundwork for solidarity.
Human Rights law is another vehicle of dialogue, or what Dr. Ghanea referred to a language of support towards one another. The Universal Declaration of Human Rights (UNDHR) put forth by the United Nations, and the Articles contained within, communicate a set of principles and expectations towards humanity that protect social and global international order.
Love, compassion, and mercy are often missing in discourse on politics and law. However, it is these transcendent values that can successfully build strong bridges between faiths and cultures divided by language, space, and history. Our humanity and vulnerability hold more power to mend divisions and create powerful movements for human rights than we may often give them credit for.
Natasha Oviedo, CDPB Intern 2020-2021 is a current Rotary Scholar and postgraduate student in the Conflict Transformation and Social Justice MA program at Queen's University Belfast. Natasha traveled to Belfast from Sierra Madre, California, a small foothill village in Los Angeles County with plenty of wildlife and a close-knit community. As a History major and Environmental Systems and Society minor at the University of California, Los Angeles, Natasha gained an appreciation for interdisciplinary research that she will apply towards research on migration, grassroots diplomacy, and multicultural democracies while in Belfast. Natasha previously interned at Hispanas Organized for Political Equality (HOPE), the Woodrow Wilson International Center for Scholars, and Red Hen Press. She also volunteers at Horn of Africa People's Aid NI (HAPANI). 
For more information about Re-thinking Solidarity please visit: https://democracyandpeace.org/solidarity/
https://democracyandpeace.org/wp-content/uploads/2020/10/Photo1.png
422
750
Eva Grosman
https://democracyandpeace.org/wp-content/uploads/2018/08/logoDemocracy-1.png
Eva Grosman
2020-10-27 11:55:06
2022-06-29 08:09:47
Re-thinking Solidarity: love, compassion and mercy