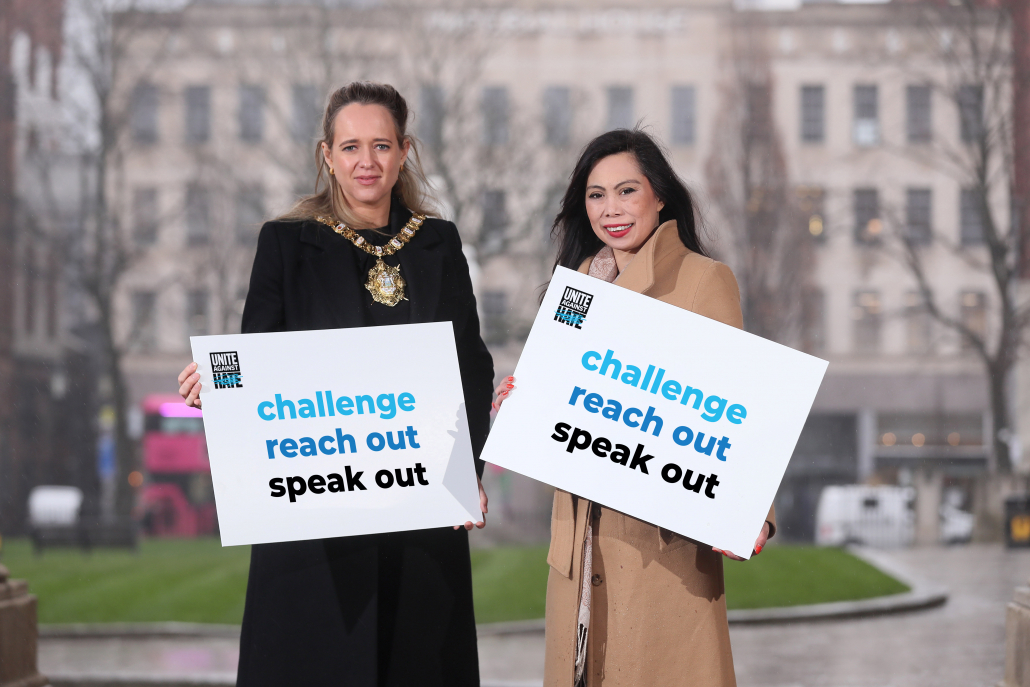 Unite Against Hate, will today launch a pledge urging the public to challenge, reach out and speak out against hate in Northern Ireland.
People are being encouraged to sign the pledge to show their commitment to tackling prejudice and discrimination in Northern Ireland. This comes as recent PSNI statistics have shown that an average of eight hate crimes or incidents are reported to the police every day across the region, with figures of racist and sectarian incidents rising every year.
Launching today at an event titled "We Are Here", the Unite Against Hate Pledge has been developed in collaboration with the Black and Minority Ethnic (BAME), LGBTQ+, Jewish and other communities from across Northern Ireland. Belfast Lord Mayor Cllr Kate Nicholl will address the event where individuals will discuss their experiences of prejudice, discrimination, and racism here.
The Unite Against Hate pledge opens for signatures online today with the public able to have their name displayed on the pledge wall. The pledge has three key parts, for individuals to challenge their own prejudices, reach out to those from a different community, and speak out and not standing by when others experience discrimination or hate.
The Unite Against Hate campaign delivered by the Centre for Democracy and Peace Building Pledge has been supported sponsored by the Executive Office's Central Good Relations Funding programme. To sign the Pledge, visit: https://uniteagainsthate.org.uk/pledge/
Minister for Justice, Naomi Long MLA, said:
"The most important thing we can do is to challenge the reasons why hate crime occurs. We need to learn to embrace diversity and better understand the challenges that other people face.
"When we see intolerance and prejudice, we need to be confident enough to speak out against it. We need to call people out and challenge them to change their ways. We need to do that in private and we need to do it in public."
"And that's why I'm lending my support to this Unite Against Hate campaign because I think that changing attitudes is the most important thing we can do to protect people from hate crime."
Lord Mayor of Belfast, Cllr Kate Nicholl, said:
"I'm proud to have signed the pledge to show my commitment to tackling prejudice and discrimination in Northern Ireland and I encourage everyone to take a moment to add their own signature. There's absolutely no place for hatred in our society – and it's up to each and every one of us to take steps to End Hate and Embrace Diversity."
"I'm passionate about encouraging a more welcoming, kinder Belfast during my term of office and I'm really heartened by the great work that many organisations are doing to help break down stereotypes and combat discrimination. But just imagine what a fantastic place it would be if we all pledged to recognise and address our own prejudices, to reach out and learn from those we see as being different, and to speak out for diversity and inclusion."
Baroness Margaret Ritchie of Downpatrick, Chair of the Centre for Democracy and Peace Building, added:
"Embracing diversity and uniting against hate is crucial in Northern Ireland because we know the consequences of prejudice, discrimination and hatred. We have come far in the last 25 years, and we are beginning to see a rich, diverse, multi-cultural society blossom here."
"We must embrace and support our minority communities and show them that Northern Ireland has learned from the past, and is now a place where diversity is celebrated, not rejected."
https://democracyandpeace.org/wp-content/uploads/2022/02/UAH-2aa-1-scaled.jpg
1707
2560
admin
https://democracyandpeace.org/wp-content/uploads/2018/08/logoDemocracy-1.png
admin
2022-02-28 13:12:55
2022-06-29 08:06:30
Public encouraged to make their pledge and Unite Against Hate in Northern Ireland