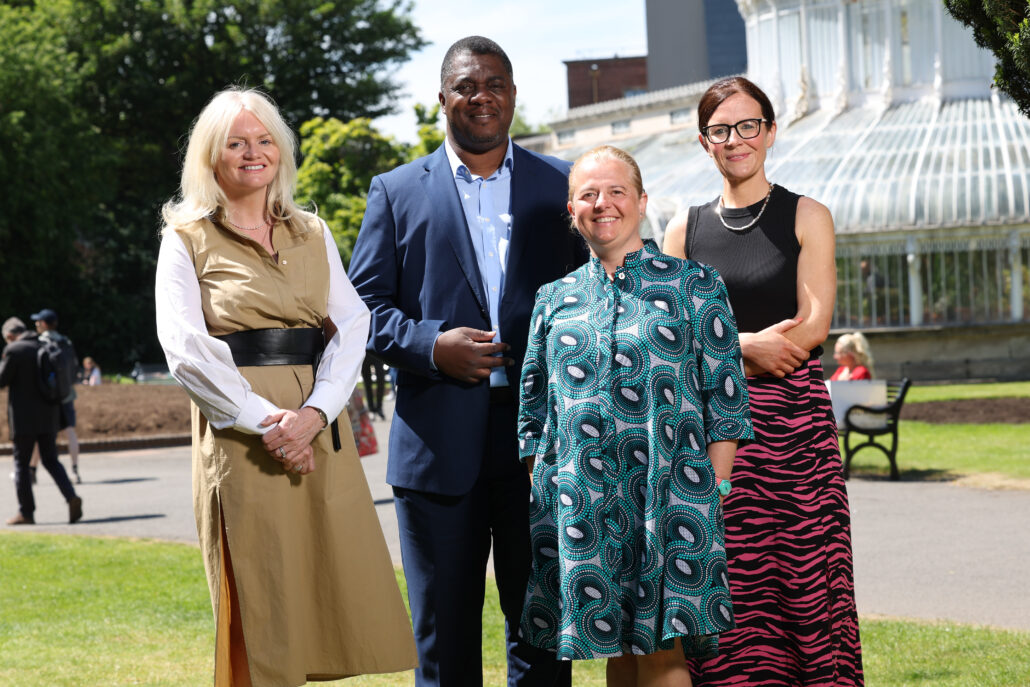 The Centre for Democracy and Peace Building has opened applications for its 2023-2024 Fellowship Programme for leaders in politics, business, and civic society in Northern Ireland.
The Fellowship Programme is supported by the Department for Foreign Affairs and Trade, some of Northern Ireland's biggest employers including Allstate NI, FinTrU, Fujitisu NI, Devenish, NIE Networks and Ulster Carpets, and the Irish American Partnership. It aims to support and equip participants to take on some of Northern Ireland's most complex political, business, and civic challenges.
Through bespoke sessions delivered by leaders and individuals in the top of their field such as former adviser to three prime ministers and the Principal of Hertford College at Oxford, Tom Fletcher, and former Irish diplomat, Tim O'Connor, Fellows are challenged to step outside of their comfort zone, with sessions including in-studio media training with Northern Ireland's largest commercial radio broadcaster, conflict management with the PSNI, as well as residential sessions at Oxford University and in Dublin.
The unique programme is delivered by the Centre for Democracy and Peace Building to support the peace process in Northern Ireland, focus on innovation and capacity building, and encourage collaborative decision-making.
Past participants of the Fellowship Programme include Diane Forsythe MLA, Dr Caoimhe Archibald MLA, Pádraig Delargy MLA, and Connie Egan MLA, Director at Diversity Mark, Nuala Murphy, and Head of Policy and Engagement at the Law Society, Jamie Warnock.
Applications for Centre for Democracy and Peace Building 2023-2024 will close on Friday 23 June. To apply or to find out more, visit:
Fellowship Advisory Board Chair, John Healy, said:
"The Fellowship Programme is a fantastic opportunity to gather ambitious leaders from diverse backgrounds and spark new conversations about the future of Northern Ireland. It has been a privilege to watch each cohort overcome difficulties and grow together in their abilities. Their open-mindedness, optimism and dedication to seeing Northern Ireland progress and truly prosper has been inspiring. I would encourage anyone who wants to enhance their own leadership ability, or who simply wants to learn from other leaders from different walks of life, to apply for this programme".
Fellowship Alumna and Director at Diversity Mark, Nuala Murphy, added:
"Taking part in the Fellowship Programme has been one of my greatest achievements. I invested in the experience from start to finish, especially the completely unique opportunity to collectively seek out how to build a better future for all in Northern Ireland so that we can live up to our giant potential. The Fellowship has given me renewed hope for this place we call home, especially in my work in diversity and inclusion via Diversity Mark. I am confident in our future leaders' ability to help this place we call home to evolve into a truly inclusive place to live, to grow up, to bring up a family, or to start a business, embracing the diversity of all our communities, our cultures, and our identities. That's the renewed start that this place needs and it's one I'm really excited to be part of in the future".
Fellowship Alumnus and Chair, Migrant and Minority Ethnic Council & The African and Caribbean Leadership Consortium, Alfred Abolarin, said:
"Being part of last year's Fellowship cohort was a great honour. Not only have I had the chance to learn and develop but I have had the opportunity to build relationships with so many individuals. I feel better equipped to build on the successes of the organisations I am affiliated with and contribute positively to navigating through difficult and complex issues that society contend with. A highlight for me was seeing people from different backgrounds and with different viewpoints come together to learn with a shared aim to see Northern Ireland thrive".
https://democracyandpeace.org/wp-content/uploads/2023/06/020623KB1-011-scaled.jpg
1707
2560
admin
https://democracyandpeace.org/wp-content/uploads/2018/08/logoDemocracy-1.png
admin
2023-06-05 15:12:00
2023-06-27 16:52:10
Centre for Democracy and Peace Building launches new intake for Fellowship Programme